The Bradford College
The Bradford College David Hockney Building's design is centered around the College's vision of creating a space that encourages and supports innovative forms of teaching and learning.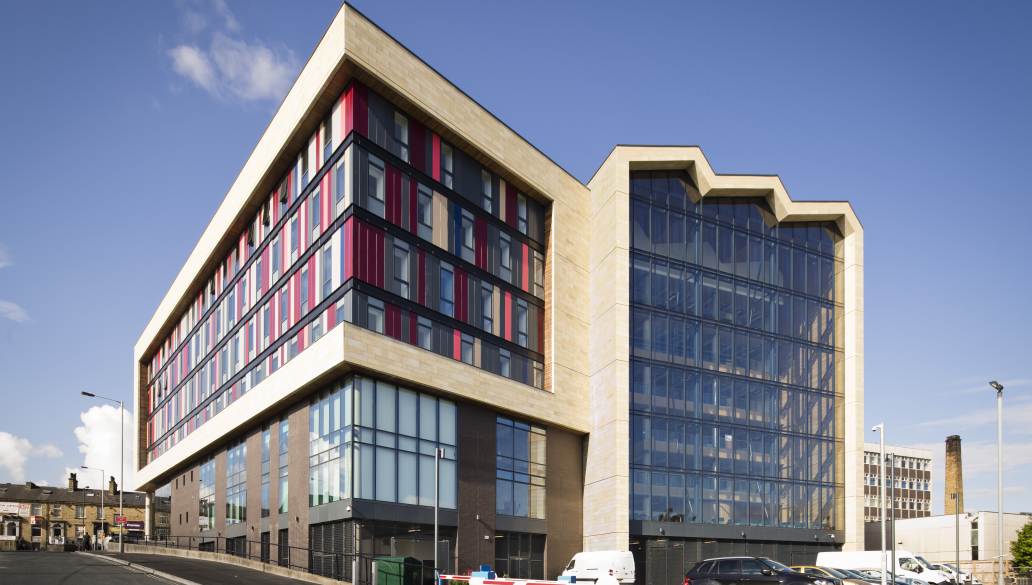 Facts
Nemetschek Group Brands
Graphisoft

Client
Bond Bryan Architects

Technology used
GRAPHISOFT Archicad

In 2008, the College embarked upon a comprehensive redevelopment strategy funded by the Learning and Skills Council. In 2009, the LSC withdrew the funds and the College was forced to reconsider their strategy with a majority self-funded project within a volatile and challenging marketplace. With assistance from Bond Bryan Architects, the College boldly devised a reduced scale development that, at its core, retained the original aims of embracing educational transformation within a truly flexible environment, while realizing efficiencies in space utilization and providing flexible-use spaces to accommodate changing learning methods.

The development is approximately 24,000 sqm (258,000 square feet) with a construction cost of approximately £38m (US$59m). This represents outstanding value for money. At the outset of the construction works, the team were challenged to save £2m (US$3m) of Value Engineering. Neither quality nor vision was diluted thanks to a strong team approach from all, with elements of the project actually becoming enhanced by a collaborative approach to value engineering. The exceptional quality and workmanship achieved by the subcontractors throughout is indicative of this process.
Rob Jackson, BIM manager and Associate Director
We are now delivering 60-70% of the requirements of COBie due to our commitment to IFC, and this is allowing us to show others how they can benefit from our data.
Externally, the development draws upon the historic precedents set by the mill buildings situated within Bradford, while seeking to create an economic solution with locally sourced (Brighouse) natural sandstone. It pays homage to the textile industry of Bradford by replicating the concept of a fabric weave within the colored segments of the elevations. This was created using an innovative cladding system that allowed the builders to achieve water-tightness more quickly and was less labor intensive on site.
Internally, the scheme was viewed as a single entity collaborative heart space, surrounded by specialist teaching zones. This required a move away from traditional, teacher-led styles of delivery in smaller cellular classrooms, and into larger, more flexible spaces that offer a range of potential learning environments.
Since 2012, Bond Bryan Architects have focused on using open data rather than native data, as they see it as an important part of their future and for the future of the construction industry as a whole. Open data will lead to greater consistency and quality for those wishing to use data for their own needs.
Rob Jackson, BIM manager and Associate Director
Given the plethora of software available, the most logical way to deliver this data is using IFC.
Producing consistent, high quality models and data for others to use has been the company focus for the past several years. The real implementation was driven by the Bradford College project. The aim was to demonstrate open workflows on a live project as well as to establish more consistent data deliverables for use by contractors, consultants and clients.